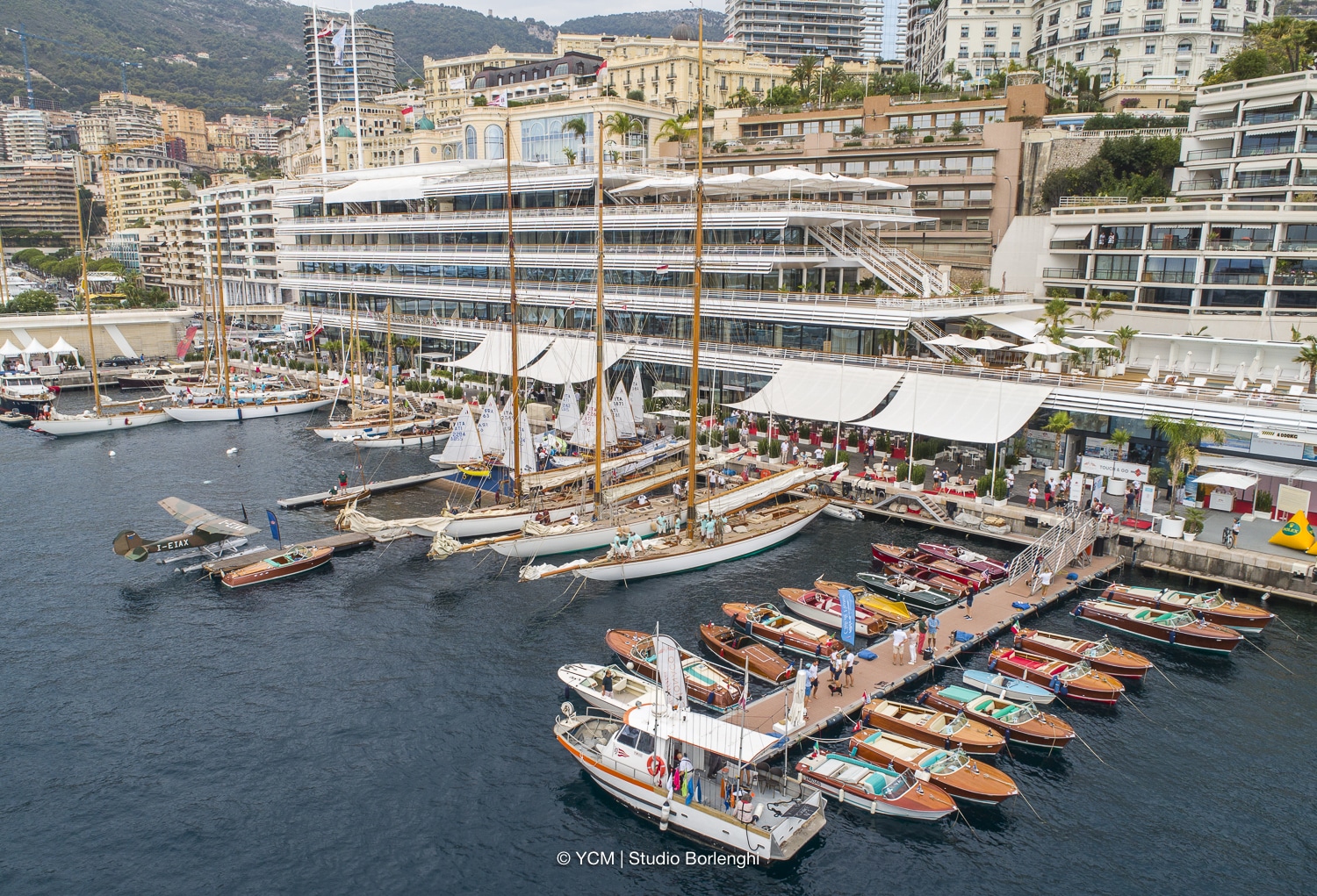 15th Monaco Classic Week – La Belle Classe – 8-11 September 2021
Beautiful hulls in action – Rivas, Chris Crafts, Albatross, Stempler Corsier Port…
Competitions ashore…
Classics lining the quay…
Thursday 9th September 2021. From 12' Dinghies to an almost 80m motor-yacht, via divine Rivas and Chris Crafts to schooners and gaff or Bermudan sloops, all are united by a capital PASSION for the beautiful boats lighting up Yacht Club de Monaco's quays this week! Although a brisk easterly set in early afternoon, kicking up a swell that put an end to any racing, other contests were in full swing: in the galleys with the Chefs Competition, at the quay with inspections to assess quality of restorations, and on the water with manoeuvrability contests for the motorboats. It was a day rooted in the heyday of yachting, motoring and aeronautics, embodied in the landing on water at the entrance to the harbour of a Cessna 305 (1961) from Como. As always it was also a day of sharing and having fun, ending with a prize-giving ceremony for the Chefs Competition. 
Speed and dexterity on the menu for motorboats
Ten Rivas outdid each other in finesse and elegance in the YCM Marina, while seven others, including three American Chris Crafts vied for supremacy in the sheer elegance of their lines and materials. But without a doubt it was speed and dexterity that was the challenge as skippers and owners performed a series of exercises to showcase their boat's seaworthiness and steerability. All day, a succession of man overboard, docking and other manoeuvres were carried out under the eagle eyes of experts in the jury, presided this year by Pierre Boucher, Port of Monaco pilot, Lionel Avias and Aurelio Balbis.
Sailing yachts in the harbour
With an easterly topping 20 knots in the outer harbour, there was too much fuel in the sail and chop on the water to start any races today. The 12' Dinghies and classic yachts remained in the marina, to the delight of visitors strolling along Quay Louis II. But the ever-creative organisers came up with a friendly but fiercely fought contest for crews on the three 15M IR yachts, Mariska (1908), The Lady Ann ( 1912) and Tuiga (1909) involving extra-large paddle boards and frantic paddling, by all, around the marina to cheers and laughter – the ever present festive spirit of yachting.
Chefs Competition
Simon Ganache, YCM's Executive Chef of Banquets and member of the Jury, handed over a basket of ingredients to each of the eight chefs taking part in the Chefs Competition: "We organise this competition for chefs aboard yachts registered for Monaco Classic Week. What's interesting is that no galley configuration is alike aboard. They all have completely different means at their disposal. Even the equipment is totally different. It's therefore a challenge as all have the same ingredients.  In the end, we taste two dishes, a starter and a hot main dish. It relies on their imagination and will be super nice. We begin with a land and sea starter, beef and king crab, with an exotic fruit theme. For the hot dish, it will be black cod, carabineros and octopus on citrus fruit preserves from Menton, orange, grapefruit, artichokes… flavours that all go very well together. The challenge with both these dishes will be incorporating a 10-year old Glenmorangie whisky." In competition this year: Alcyon 1871, Barbara, Eileen 1938 and Puritan, and the motor-yachts Blue Bird of 1938, Istros, Kir Royal and Seaway". At the end of the tastings, the winner was Eileen 1938 thanks to her talented Chef Thibault Barbafieri.
La Belle Classe Restoration Prize – Sir Robin as judge
Sir Robin Knox-Johnston, first man to complete a solo round the world race in 1969, in 312 days, is President this year of the La Belle Classe Restoration Jury. He and the other members are walking the quays of the YCM Marina examining every detail of the 33 yachts involved, and chatting with skippers and owners about their boat's life.
"I've been attending this event for nearly 10 years now, and I love coming here as owners and crews are so enthusiastic. And I find this enthusiasm infectious. I go aboard and the crew members delight in showing us the work that has been done, talking about the boat's history, and of course we can go sailing and watch the spectacle. You can't control a jury. You can't control every individual. Sometimes you just have to say "Guys, we need a decision!"
Did you know?
The Italian engineer Carlo Riva travelled to the United States in 1951 and returned inspired by the American Chris-Craft and Hacker-Craft runabouts he saw on the Great Lakes and in the Hamptons of New York State. He designed his own models in his family-run yard on Lake Como in Italy to compete with the Americans.
Chris-Craft is a private American motorboat builder headquartered in Sarasota, Florida. Their story began in 1874 in the USA when Christopher Columbus Smith and his brother built the first boat to go fishing and hunting. It was from 1922 that Chris-Craft became a brand and company dedicated to designing and building motorboats.
They said:
Bernard d'Alessandri, General Secretary of Yacht Club de Monaco
"The recipe for Monaco Classic Week's success can be summed up in one word: passion! The passion owners have for their boats and this very singular way of yachting, and the passion of the organisers who love sharing these moments. These boats depend on the crews, but above all the owners who maintain and prolong the lives of these magnificent vessels. It's the same passion one finds for cars or in aviation. These boats span time thanks to a small group of enthusiasts. At Monaco Classic Week we find love, the love of knowhow, of sailing, of being on the sea, of showcasing a way of life and yachting from over a century ago. After a year of the pandemic, people have been deprived of this ambiance. Finding yourself here is magical! 
Eric André, Iran, a Stempler Corsier Port motorboat – 1948
"A motorboat is rather like a car, but with the inertia of a boat, that's to say that when you turn the wheel there is not an immediate response! It's a bit like driving on ice. I'm neither a sailor nor a pilot, I just love beautiful things, beautiful old boats. The pleasure is in driving and piloting a beautiful object. My boat is not really for the sea. To tell the truth, she doesn't like the wind or waves at all. She very quickly turns into a bathtub as her bow is very straight and pointed, the boat plunges into the wave and takes on water. She needs a lot of care and attention. We revarnish her regularly. Monaco Classic Week is a wonderful event. We really enjoy meeting other owners and the pleasure of sharing moments like these on the water."
Javier Sabatino, Chef on Istros
"We are given a few rules that we have to follow, and Chef Simon Ganache gives us the ingredients and the concept. We have to use a certain brand of whisky for the starter and main dish. The Chef has also given us the fruits we need to use. There are rules which is sometimes difficult for a chef. At 5.00pm there will be a tasting and that can be stressful. It is great to be here and to be part of this competition. Aboard Istros we have everything necessary to cook. My passion is being creative and using my hands. I've been a chef for 18 years now and have been on this yacht two years."
Kostia Belkin, owner of Viola (Fife 1908)
"Viola is a gaff cutter designed by Fife and built in Fairlie in 1908, at the same period as Mariska. My encounter with Viola took place during the days of the Nioulargue. My father who was passionate about sailboats showed me this boat, Pen Duick and Eric Tabarly had appeared in front of us and I experienced a very deep emotion. I said to myself then that if life gave me a chance I would love to acquire a boat like this. Ten years ago I met Yvon Rautureau, another big admirer of Tabarly and Pen Duick. He had found and restored Viola in 1997. As we had become friends, he trusted me to take over Viola in 2012; she is beautiful but is also lucky to be 90% original, ballast, keel, planking. Only the deck and rigging have been redone to Fife's plans. She's been restored in the old style. She is run by people who are "Viola lovers", a fantastic crew who adore this boat and give her soul. Viola is 113 years old, and it has to be an art in its own right to span time."
Friday 10th September
9.00am-6.00pm             Inspection of yachts by La Belle Classe Restoration Jury
10.00am                      First warning signal for the Yacht Club de Monaco – Cal del Forte Ventimiglia passage race for sailing yachts, motor-yachts and motorboats
12 noon                       First warning signal for 12' Dinghy class
1.00pm                        Lunch on the quays of Cala del Forte, the new marina at Ventimiglia
3.00pm                        Start of return passage race from Cala del Forte to Yacht Club de Monaco
6.30pm                        Presentation of L'Entreprenant Monsieur Mégevet 1874-1932 by its author Daniel Charles
7.00pm                        Presentation of Puritan – the Portrait of an American Queen by owner Tomas de Vargas Machuca, & author Francesca Webster, followed by book signings
Saturday 11th September
9.00am-6.00pm            Inspection of yachts by La Belle Classe Restoration Jury
11.00am                      Elegance Parade for classic sailing yachts
12 noon                       Start of classic yacht and 12' Dinghy class races – coastal course
2.30pm                        Elegance Parade for period motor-yachts and motorboats
4.00pm-5.00pm           Monaco Classic Week Grand Parade (boats meet in front of Museum 3.30pm)
7.00pm                        Closing cocktail and prize-giving (by invitation)