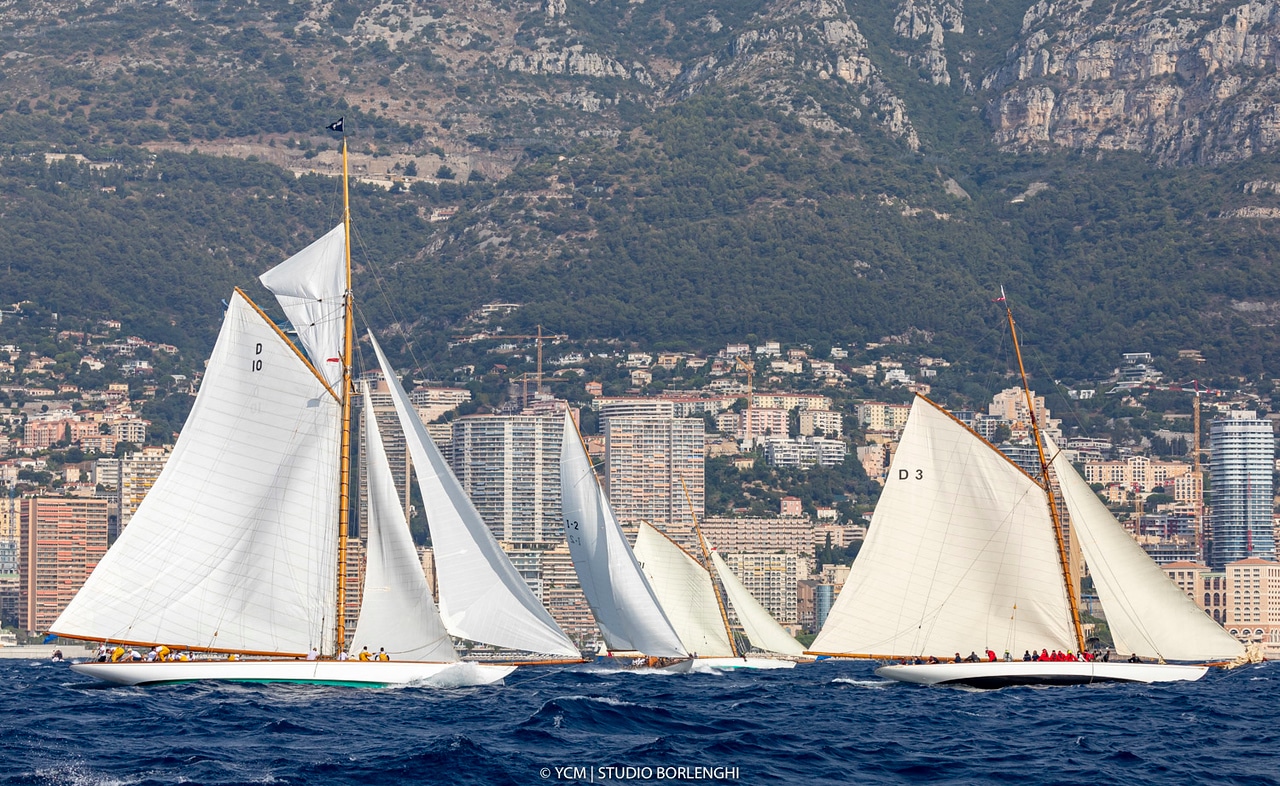 15th Monaco Classic Week – La Belle Classe – 8-11 September 2021
A wholly original coastal race to Ventimiglia for the Classics
Orion makes her return after a 27-year absence
Tomorrow – elegance contests
Return trip to Cala del Forte in Ventimiglia
It was an original highly unusual format for Monaco Classic Week, as the Race Committee had planned a round trip to Ventimiglia and the new Cala del Forte marina, a distance of nearly eight nautical miles from the two Monegasque harbours. A bracing upwind leg against a strengthening 15-plus knot easterly kept crews on their toes tacking into the chop. The Race Director chose to judge the arrival wisely at Cap Martin by slightly reducing the course. The Anker-design Meerblick Classic excelled again by being first to Cala del Forte where crews were able to go ashore for lunch. Meerblick Classic, launched 1917 as one of the 10-Meter Class (10mR) was ahead of the Olympian (Garner 1913), and continues an astonishing series of excellent results which began last year. The accelerating downwind leg saw Viola (Fife 1908) very much on a par with her eternal rival Olympian after a long unique leg back to Monaco.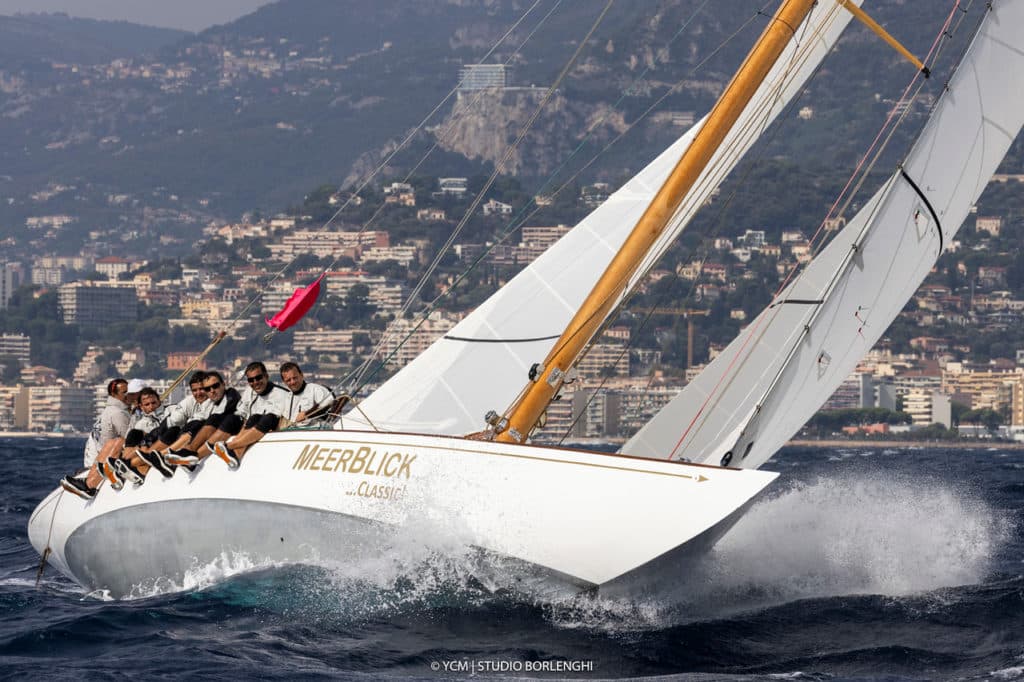 Orion – The Return!
The big (47m) gaff schooner Orion, bearing the signature of British designer Charles E Nicholson, is making her long-awaited return to the fray at Monaco Classic Week having hugely impressed everyone at the first edition back in 1994. Launched 1910 under the name Sylvana, the schooner's name would change four times before in 1930 being given the one she is now so well known by of Orion.
Cala del Forte – Italian extension to Port Hercule
In 2016, faced with an ever-growing demand for berths and with the Principalities two harbours at saturation point, Monaco Ports decided to set up SMIP (Société Monégasque Internationale Portuaire) and buy the neighbouring Cala del Forte marina in Ventimiglia. Today, Cala del Forte is a very pretty, oblong-shaped, brand new state of the art marina just 20 minutes from the Principality (7.9 nautical miles). Naturally protected from the elements and with strictly controlled access on land, it is a perfect fit to Port Hercule and Port de Fontvieille. Cala del Forte was officially inaugurated on 2nd July in a ceremony attended by HSH Prince Albert II of Monaco.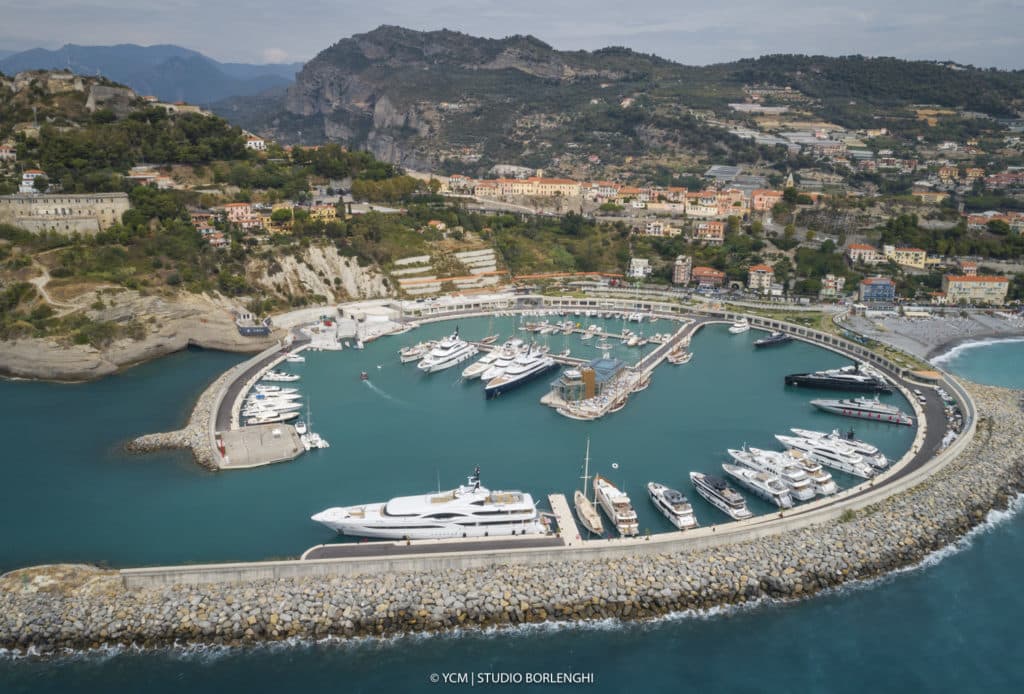 Meetings for enthusiasts
Two important events were organised today that have a direct link with Monaco Classic Week's story. Daniel Charles presented his latest work L'Entreprenant Monsieur Mégevet 1874-1932, dedicated to the founder of the Swiss Corsier-Port boatyard that produced a number of boats for Lake Geneva. Daniel Charles has a PhD in history, is a naval architect, award-winning author and is passionate, curious and entertaining. This work on Jules Mégevet is his 49th book. The latter founded the Chantier Naval de Corsier-Port in 1909, and the original building he had built for the yard still houses workshops today and has become a key landmark for anyone sailing on Lake Geneva.
Following in the evening was another presentation of a book, this one entitled Puritan – the Portrait of an American Queen, by her owner Tomas de Vargas Machuca and the author Francesca Webster. Puritan won the Monaco Classic Week Trophy in 2019. There are few classic yachts whose definitive history has been recorded in such detail. This is the case for the schooner Puritan designed by John Alden in 1931. Her owner, Tomas de Vargas Machuca, entrusted historian and journalist Francesca Webster to research and record the yacht's history. A project that would take more than two years to complete.
A classic two-mast 31m schooner, Puritan was built by Elco in the UK, and delivered to her owner in 1931. The last time she was renovated was in 1990. The exterior design and sophisticated engineering of this luxury vessel are the work of John G. Alden and his team.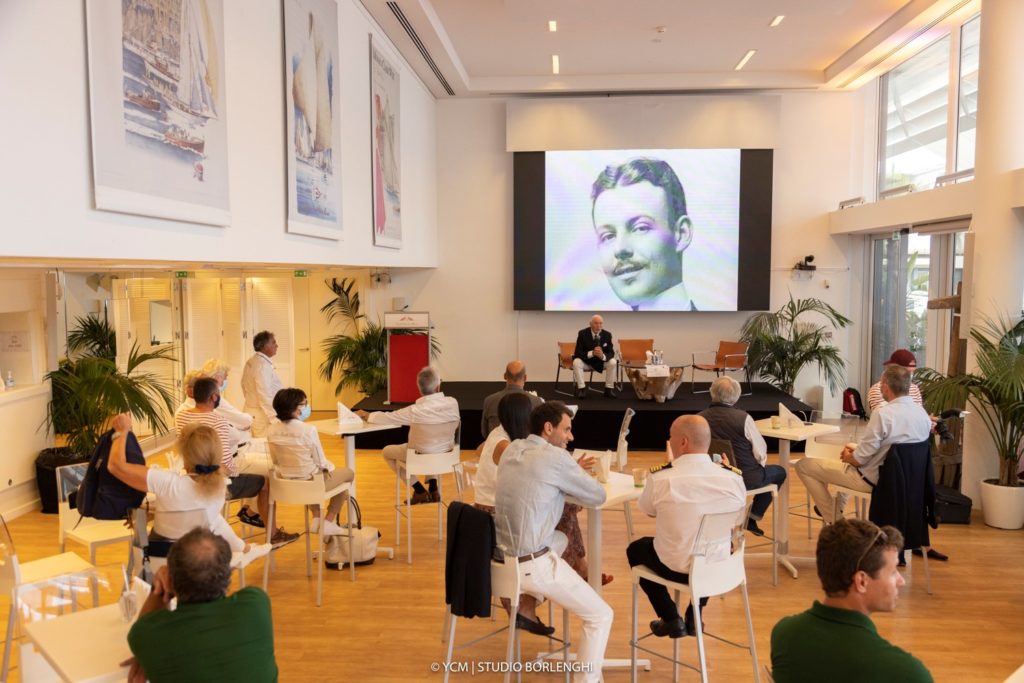 Astonishing success of the 12' Dinghy class
A 20-strong fleet in the 12' Dinghy Class are sailing in Monaco this weekend. For such a small dinghy, loved for its old-fashioned charm, it has a remarkable history. A descendant of rowing boat tenders to big yachts at the turn of the 20th century, they are emulated in Italy and the Netherlands in particular where they are almost worshipped. It was in 1913 that a small club of sailing enthusiasts in England called the Boat Racing Association (BRA) requested a design to meet the following criteria: length 12′, beam 4′8″ and one 100-square-foot sail with no battens: it was to be a rowing or sailing boat, suitable as a tender for larger yachts. The winning project was submitted by a designer called George Cockshott (1875-1952). The 12' Dinghy started life as the first "one design yacht tender" and became an Olympic class in 1920 and 1928.  In plastic or wood, this little dinghy's success went through the roof. In Holland there are now sail numbers exceeding 850, almost all made of wood. In Italy, you find sailors aged 80, affectionately referred to as "The Legends".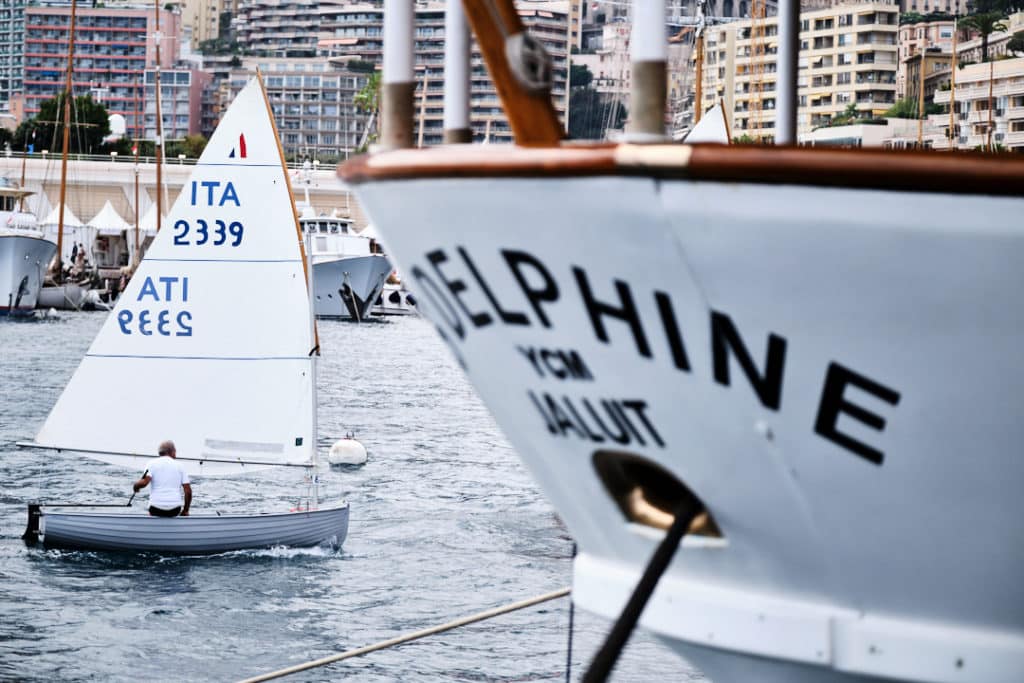 Eminent specialist
Dr William Collier from G. L. Watson & Co, an eminent historian and classic boat restorer, is in Monaco on the jury for the La Belle Classe Restoration Prize. William Collier combines academic knowledge with extensive hands-on experience having been behind dozens of yacht restorations ranging from the gaff cutter Avel (1896) to the motor yacht Malahne (1937).
Chefs Competition
Thibaud Barbafieri, chef on the Bermudan cutter Eileen 1938, (built in Oslo, Norway, by the Anker & Jensen yard for Olympic figure skating champion Sonia Henie), won the Chefs Competition held yesterday.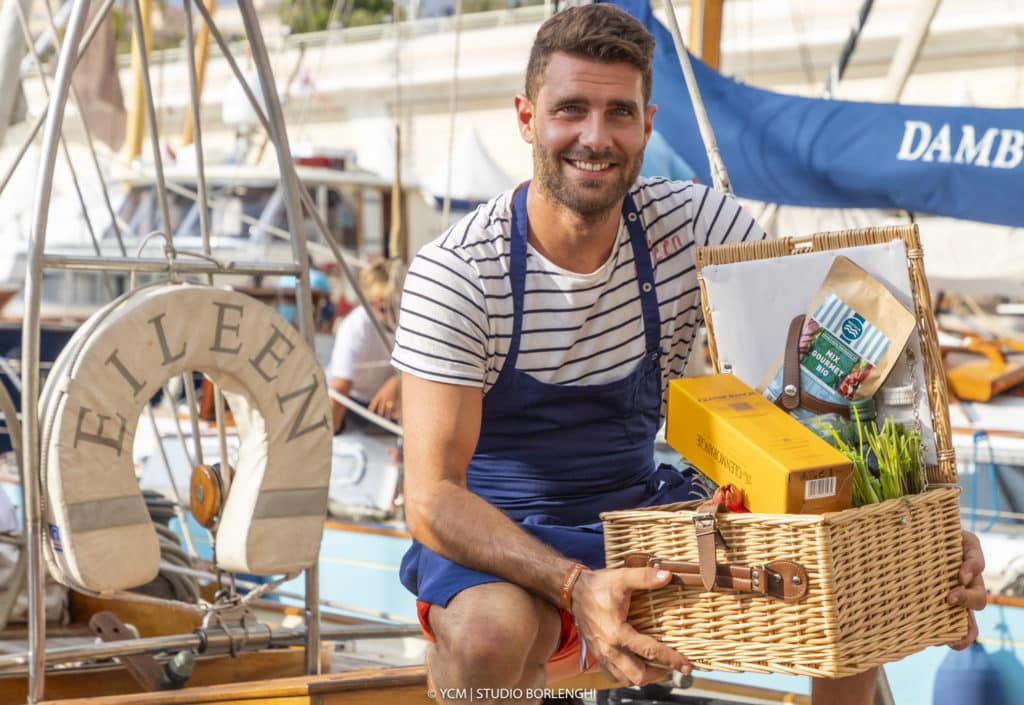 Saturday 11th September
9.00am-6.00pm                Inspection of yachts by La Belle Classe Restoration Jury
11.00am                              Elegance Parade for classic sailing yachts
12 noon                               Start of classic yacht and 12' Dinghy class races – coastal course
2.30pm                                Elegance Parade for period motor-yachts and motorboats
4.00pm-5.00pm                Monaco Classic Week Grand Parade (boats meet in front of Museum 3.30pm)
7.00pm                                Closing cocktail and prize-giving (by invitation)