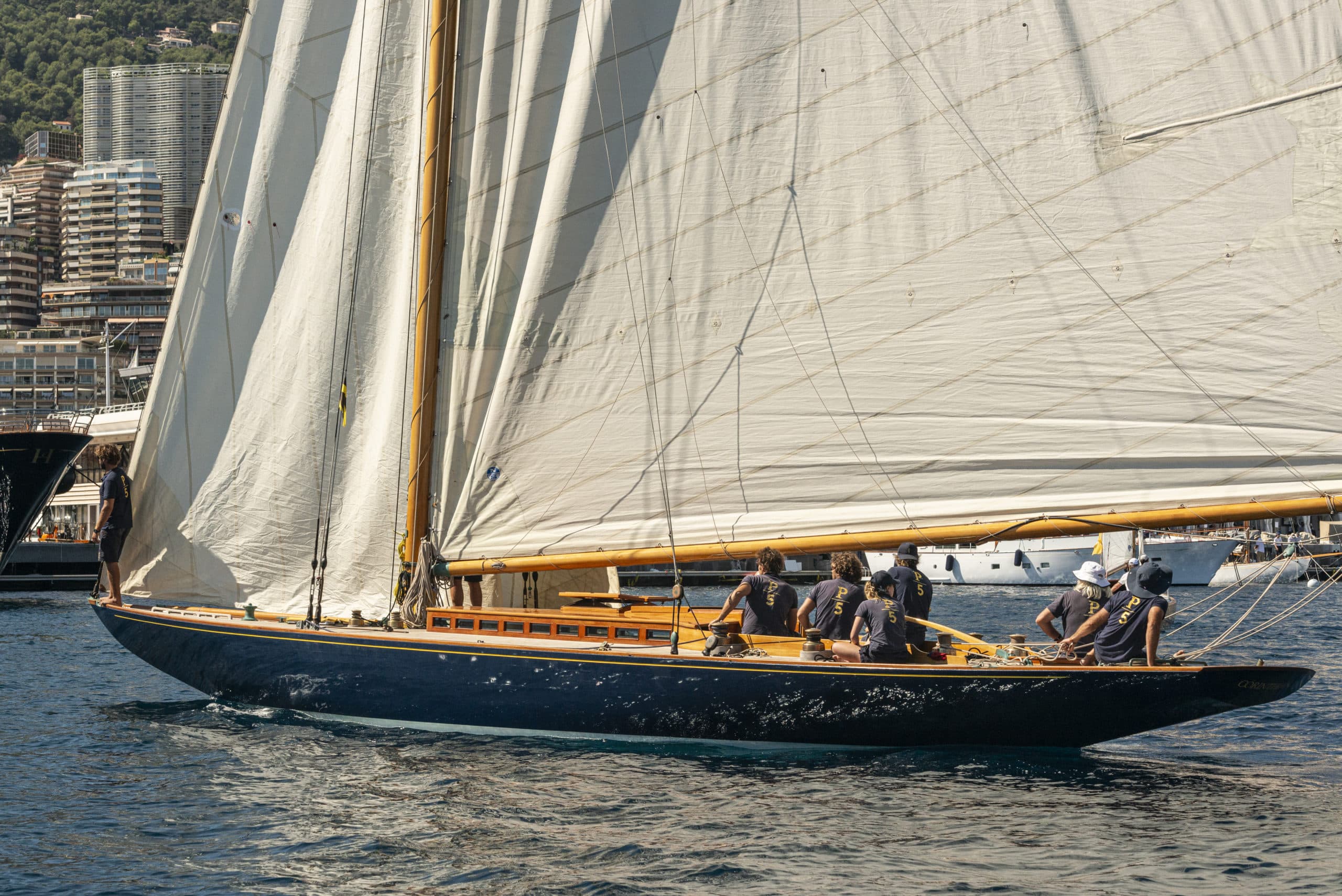 16th Monaco Classic Week-La Belle Classe
(13-16 September 2023)
 Maritime tradition dazzles in Monaco Bay
Friday 15th September 2023. Participants in the 16th Monaco Classic Week-La Belle Classe delighted the public with a spectacular outing in Monaco Bay. Led by a roaring armada of vintage motorboats led by the Riva family's Lipicar, the fleet criss-crossed the bay and sailed close to the shore, much to the pleasure of spectators.
Fleet enters in style
At the end of the day at sea, the fleet headed for the YCM Marina and Port Hercule for an eye-catching entry that caught everyone by surprise. With all sails up, each competing for finesse and elegance, the classic sailing yachts produced an impromptu parade for all those who had come to admire them. Escorted by a brigade of vintage motorboats who had already captured the public's hearts, they tacked carefully in a light wind at the foot of Yacht Club de Monaco and in Port Hercule creating a breathtaking spectacle.
Under the bonnet
Considered pure gems in the yachting world, the 60 motorboats deployed all their charms under blue skies and sunshine, their meticulous varnish glinting in the light during a memorable outing as they wove their way through the sailing yachts. Led by Lia Riva aboard the Aquarama Lipicar the boats then began their treasure hunt. Equipped with compass and marine charts they plied the sea between Roquebrune Cap Martin and Cap d'Ail in search of precise locations set by the organisers, the goal being to take photos to prove they had indeed found these destinations. A challenge much enjoyed by all this Friday afternoon.
Chefs Competition: 'Art de Vivre la Mer' on a plate
Ten professional and amateur chefs went head to head in their galleys, putting their creative talents to the test from a basket of mystery ingredients to embody the art of living well at sea. Dishes conjured up based on rock lobster, brill and Riviera vegetables impressed a Jury presided by Chef Philippe Joannes, Meilleur Ouvrier de France and three Michelin stars, alongside Joël Garault, head of the Monaco Goûts et Saveurs association, Chef at the Palace, Christian Garcia, and Frédéric Ramos, Executive Chef of the Novotel Monte-Carlo. The competition was won by M/Y Sally: "We won mainly thanks to the spacious and well-equipped galley on Sally. We are delighted," said the owner and captain, Ettore Kovrich. Second place went to the sailing yacht Barbara of 1923 and third to Stalca, a motor-yacht that once belonged to Prince Rainier III of Monaco.
Full results at: https://monacoclassicweek.com/en/results/
Pure elegance
From tomorrow, Saturday 16th September, and the closing cocktail of this 16th edition, classic sailing and motor yachts and vintage motorboats will be showcasing their assets to the Elegance Parade Jury, who take into account etiquette, style, a certain respect for living well and conduct at sea, always with a festive spirit to the fore. They can be seen from Quai Luciana as the boats file one behind the other past this Jury of experts in yachting history presided by Allegra Gucci, owner of Creole, the handsome three-master built in 1927 and a considered a masterpiece of Charles Nicholson.
 PROVISIONAL PROGRAMME (subject to change)
Village open to the public until Saturday 16th from 10.00am to 8.00pm. Free entry.
Saturday 16th September
9.00am-12 noon            Inspection of yachts by 'La Belle Classe Restoration' Prize Jury
11.00am                         Elegance Contest – classic yachts, period motor-yachts, vintage motorboats
12 noon                         1st warning signal – 12' Dinghy class
12 noon                         Start of classic sailing yachts race
2.00pm                          Manoeuvrability Challenge for motorboats
4.00pm-5.00pm             Monaco Classic Week Grand Parade
7.00pm                          Prize-giving & Closing Cocktail Quai Lucciana
(by invitation – dress code: Yachtsman attire)
Press contact: Yacht Club de Monaco – Tel: +377 93 10 64 09 – Email: presse@ycm.org
Copyright-free photos and video footage available on request
Limited places on press boats, requiring accreditation and reservations:
https://form.jotformeu.com/210614682170348