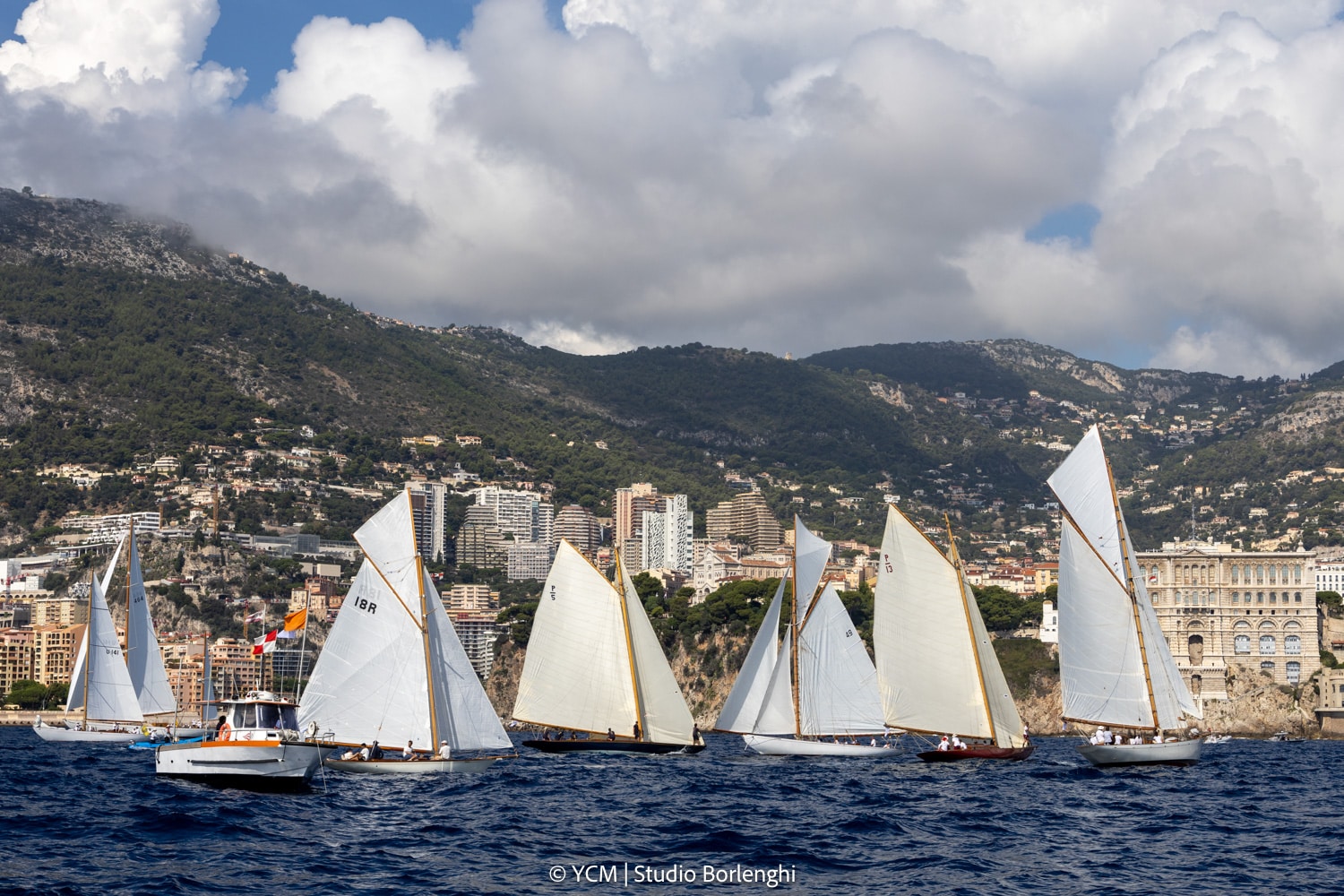 16th Monaco Classic Week-La Belle Classe
(13-16 September 2023)
 Art de Vivre la Mer at sea and ashore
Thursday 14th September 2023. A total of 130 boats were invited to the 16th Monaco Classic Week-La Belle Classe, a biennial launched in 1994 which pays tribute to living maritime heritage. Around 40 classic yachts, a dozen period motor-yachts, 60 vintage motorboats and 20+ 12' Dinghy class boats are in the YCM Marina.
15M IRs open the ball
Day one saw Yacht Club de Monaco's flagship Tuiga, with Mariska and The Lady Anne, the last surviving 15M IRs still sailing, enjoying a warm up race and putting on a fabulous display in the bay in a stiff breeze to kick off this meeting which promotes the inimitable 'Art de Vivre la Mer' lifestyle at sea. Ashore, owners, crews and YCM members danced late into the evening at the opening cocktail.
Ashore the Jury has their work cut out
At the same time as the races, the 'La Belle Classe Restoration' prize Jury chaired by Sir Robin Knox-Johnston are inspecting every boat. Renowned experts in yachting history visit each one assessing the quality and spirit of their restoration, taking into account respect for the original plans and materials used to build the boat and knowledge of those who restored them. Their job ends Saturday when one boat will receive the coveted 'La Belle Classe Restoration' prize.
Chefs Competition puts spotlight on creativity
Starting Thursday morning, a dozen boats pulled out all the stops for the Chefs Competition. Open to all boats and their chefs, professional or not, this original contest demands creativity based on a basket of mystery ingredients. Supervised by Simon Ganache (YCM's Events Chef), the Jury is chaired by Philippe Joannes, 'Meilleur Ouvrier de France' and three Michelin stars, alongside Joël Garault, head of the Monaco Goûts et Saveurs association, Christian Garcia, Chef at the Palace and Frédéric Ramos, Executive Chef at the Novotel Monte-Carlo. After receiving their basket in the morning, contestants had several hours to produce a starter to be shared based on rock lobster followed by a main dish of brill and Riviera vegetables. As the art of presentation and service is also being judged, the contest echoes courses run by YCM's La Belle Classe training centre. Next year on 4th April 2024 it will be the turn of superyacht chefs to put on a show at the annual Superyacht Chef Competition.
Prince Rainier III exhibition looks back at some exceptional boats
To celebrate the 100th anniversary of the birth of Prince Rainier III, who founded Yacht Club de Monaco in 1953, an exclusive exhibition shines a light on some of the beautiful boats owned by a man who loved the sea and cruising. Entitled 'The Prince and the Sea', the retrospective is open to the public (until Saturday 16th September) and looks back at the 15 boats in Prince Rainier's collection that in post-war years gave new impetus to yachting.  Among boats exhibited and present in the YCM Marina is Stalca, a motor-yacht named from the first two letters of each of the princely couple's children. Launched in 1971 by the Dutch yard Vitsch and acquired by the Sovereign in 1973, she was restored in 2017.
Full speed ahead
From tomorrow Friday 15th September, classic sailing yachts and the 12' Dinghy class have more races at sea while the sizeable fleet of motorboats and motor-yachts led by Lia Riva on Lipicar, an Aquarama that belonged to her father, Carlo, the Ingegnere di Sarnico, depart on an unusual treasure hunt. Armed with a marine chart, contestants have to reach different points on the chart between Roquebrune Cap Martin and Cap d'Ail and take photos to prove they've been there. For 1 hour 30 minutes, 60 motor boats including 30 Rivas, those mahogany runabouts made famous in the fifties that epitomise the Mediterranean, will be on the start of this original event.
Results in full: https://monacoclassicweek.com/en/results/
PROVISIONAL PROGRAMME (subject to change)
Village open to the public until Saturday 16th from 10.00am to 8.00pm. Free entry.
Friday 15th September
9.00am-6.00pm             Inspection of yachts by 'La Belle Classe Restoration' Prize Jury
12 noon                         1st warning signal for 12' Dinghy class
12 noon                         Start of classic sailing yachts race
2.00pm                          Treasure hunt for motorboats and motor-yachts
2.00pm-4.00pm             Ropes & Splices workshop – La Belle Classe Academy – on the quay
Saturday 16th September
9.00am-12 noon            Inspection of yachts by 'La Belle Classe Restoration' Prize Jury
11.00am                         Elegance Contest – classic yachts, period motor-yachts, vintage motorboats
12 noon                         1st warning signal – 12' Dinghy class
12 noon                         Start of classic sailing yachts race
2.00pm                          Manoeuvrability Challenge for motorboats
4.00pm-5.00pm             Monaco Classic Week Grand Parade
7.00pm                          Prize-giving & Closing Cocktail Quai Lucciana
(by invitation – dress code: Yachtsman attire)
Press contact: Yacht Club de Monaco – Tel: +377 93 10 64 09 – Email: presse@ycm.org
Copyright-free photos and video footage available on request
Limited places on press boats, requiring accreditation and reservations: