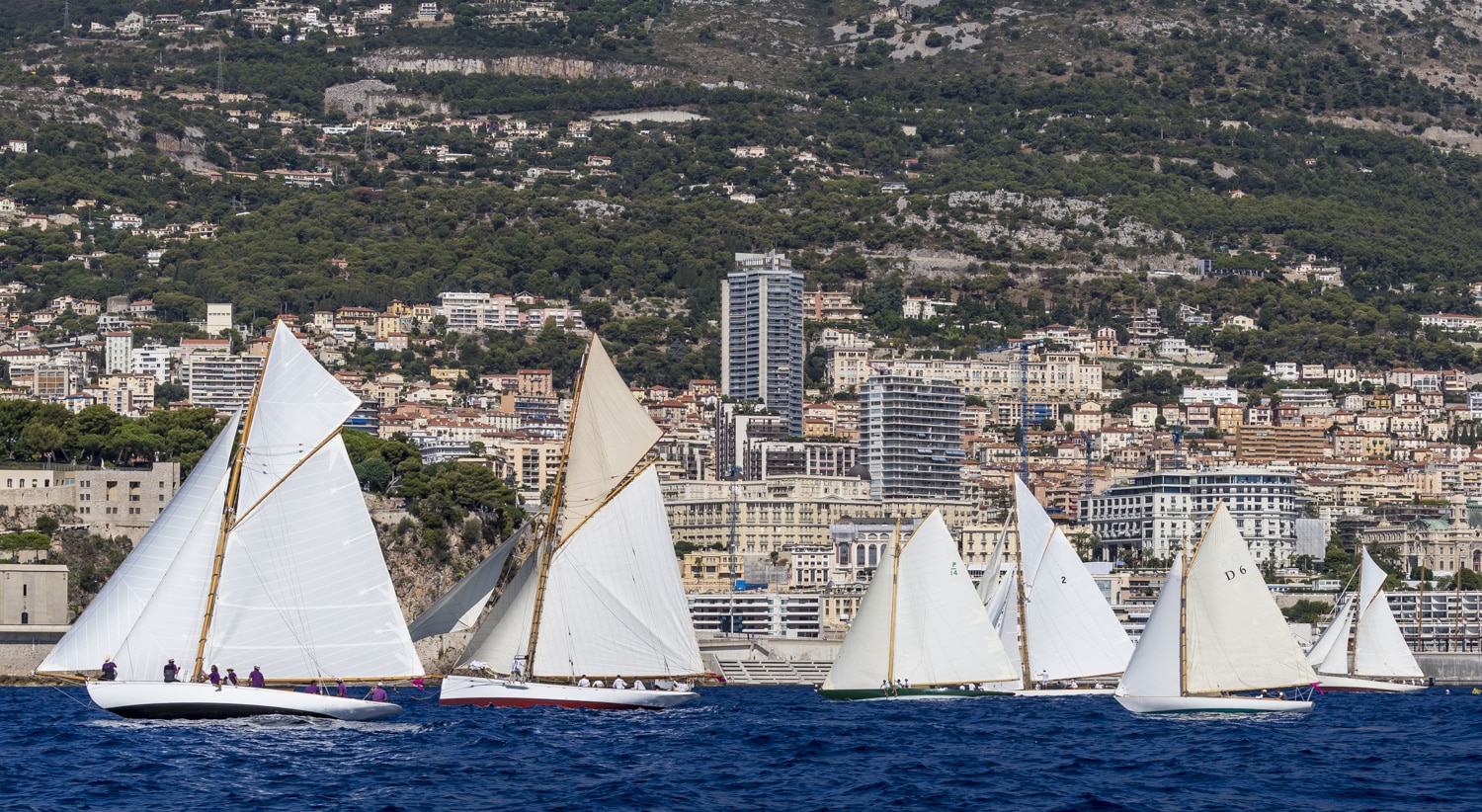 15th Monaco Classic Week – La Belle Classe
Tuesday 7th September 2021. Time for Yacht Club de Monaco to celebrate as it prepares to welcome a fleet of the finest for the 15th Monaco Classic Week – La Belle Classe. Period motor-yachts, vintage sailing yachts, 12' Dinghies and vintage motorboats will be dropping anchor in the Principality. Nearly 120 years after the first powerboat meetings, tradition burns brightly in Monaco. A bespoke nautical, cultural and social programme has been arranged for owners and crews. The general public who love these meetings can stroll at their leisure round the quays to see what the Village of exhibitors has to offer (painters, photographers, marine craftsmen, boatyards, sculptors, YCM's Boutique) that opens Wednesday 8th September at 12 noon and visit the exhibition 'Powerboat Meetings in the Albert I of Monaco era – Yacht Club de Monaco's collection restored' (free entry).
Where elegance reigns
Held every two years since its launch in 1994, Monaco Classic Week quickly established itself as a not to be missed event on the international traditional yachting calendar. A classic in its own right it combines heritage, elegance and Art de Vivre sprinkled with a glamour to which only the Principality has the secret. Between challenges at sea, literary meetings, a dozen stands on the quay and parties, the event appeals to all the senses, including the palette with the popular Chefs Competition and its jury chaired this year by Mauro Colagreco.
Participating for the first time is the Hydravion Club de Monaco. A Cessna C305 seaplane will be taking off from Como to fly to the Principality and land on the sea amidst the classic boat fleet, a reminder of the industrial revolution that invaded the Principality at the turn of the 19th / 20th century which saw a succession of early seaplanes being put through their paces on the sea off Monaco.
Living maritime heritage
An exclusive line-up of around 30 selected vintage yachts, built before 1950, will gather for this 15th edition, including Viola (1908), winner of the 2017 Monaco Classic Week Trophy. After coming first at the 21st Noirmoutier Classic in Vendée early August, Kostia Belkin's magnificent gaff cutter has just returned from the Balearics where she also won the 17th Copa del Rey Vela Clàssica.
Alongside will be two spectacular gaff schooners, a breathtaking sight with all sails set, Orion of the Seas (1910) and Puritan (1930), winner of the 2019 Monaco Classic Week, and not forgetting the 15M IR yachts still sailing: Tuiga (1909), The Lady Anne (1912) and Mariska (1908). A dozen motor-yachts including SS Delphine (79m) celebrating her 100th anniversary, a fleet of 12' Dinghies and 20 Riva and Chris Craft motorboats will also be at the party. All will participate in the nautical events that include an elegance contest, a Grand Finale parade on the Saturday at 4.00pm, and of course the coveted La Belle Classe Restoration prize judged by a jury chaired by Sir Robin Knox-Johnston who will be verifying how far each boat conforms to its original plans.
Chefs Competition for gourmets
Chaired by the three-Michelin star chef Mauro Colagreco, voted Best Chef 2020 by his peers and supervised by Simon Ganache, Executive Chef for banquets at Yacht Club de Monaco, the jury comprises Michelin-star Chef Alain Llorca, represented by Jean Michel-Llorca, Chef Phillipe Joannes, Meilleur Ouvrier de France 2000 and Director of Culinary Events at SBM, represented by Ken Thomas, Frédéric Ramos, Executive Chef at Novotel Monte-Carlo, David Alves, Corporate Executive Chef for the Joël Robuchon International group and Alexis de Labarthe – Head of Prestige at Glenmorangie. Under their watchful eyes, contestants will be gleaning new ideas for guests onboard, in a set time and from a basket of ingredients. 'Land and Sea' is the theme exercising chefs' minds and palettes with, for the starter, produce such as Wagyu beef and King Crab, and for the main dish black cod, carabineros and octopus. And to further enhance their dishes contestants need to incorporate Glenmorangie's 10-year-old The Original whisky. It will therefore be an ideal opportunity for this prestigious Scottish distillery, producing single malt whiskies in the Highlands, to officially present Glenmorangie Tuiga, a limited edition 25-year-old whisky (250 numbered bottles) as a tribute to the YCM flag ship's Scottish roots. Owners at Monaco Classic Week will have the privilege of attending a private, very exclusive tasting.
Tribute to Prince Albert I
In partnership with the Comité Albert Ier-2022, YCM hosts an exhibition entitled 'Powerboat Meetings in the Albert I of Monaco era – Yacht Club de Monaco's collection restored'. Comprising 60 documents (lithographs, posters, photographs, restored old postcards), recently restored and on public display for the first time, the exhibition is part of the centenary commemorations of the death of Prince Albert I of Monaco (1922 – 2022).
A week of passions and maritime history, with two new books  (L'Entreprenant Monsieur Mégevet 1874-1932 and Puritan – the Portrait of an American Queen) plunging us back into the elegant relaxing ambiance of early 20th century.
Provisional programme (as of 1st September, may be subject to change)
Wednesday 8th September
12 noon                       Opening of Monaco Classic Week's Exhibitors Village
1.00pm                        15M IR warm-up race
3.00pm-6.00pm           Inspection of yachts by La Belle Classe Restoration Jury
7.00pm                        Opening Cocktail and inauguration of 'Powerboat Meetings in the Albert I of Monaco era – Yacht Club de Monaco's collection restored'- by invitation
Thursday 9th September
9.00am-6.00pm            Inspection of yachts by La Belle Classe Restoration Jury
9.00am-10.00am          Chefs Competition (distribution of ingredients on the quays)
12 noon                       Start of classic sailing yachts and 12' Dinghy class races – coastal race
2.00pm                        Manoeuvrability challenge for motorboats
5.00pm-7.00pm           Chefs Competition with Moët Hennessy (presentation of dishes on the quay)
8.00pm                        Prize-giving for Chefs Competition
Friday 10th September
9.00am-6.00pm             Inspection of yachts by La Belle Classe Restoration Jury
10.00am                      First warning signal for the Yacht Club de Monaco – Cal del Forte Ventimiglia passage race for sailing yachts, motor-yachts and motorboats
12 noon                       First warning signal for 12' Dinghy class
1.00pm                        Lunch on the quays of Cala del Forte, the new marina at Ventimiglia
3.00pm                        Start of return passage race from Cala del Forte to Yacht Club de Monaco
6.30pm                        Presentation of L'Entreprenant Monsieur Mégevet 1874-1932 by its author Daniel Charles
7.00pm                        Presentation of Puritan – the Portrait of an American Queen by her owner Tomas de Vargas Machuca, and author Francesca Webster, followed by book signings
Saturday 11th September
9.00am-6.00pm            Inspection of yachts by La Belle Classe Restoration Jury
11.00am                      Elegance Parade for classic sailing yachts
12 noon                       Start of classic yacht and 12' Dinghy class races – coastal course
2.30pm                        Elegance Parade for period motor-yachts and motorboats
4.00pm-5.00pm           Monaco Classic Week Grand Parade (boats meet in front of Museum at 3.30pm)
7.00pm                        Closing cocktail and prize-giving (by invitation)