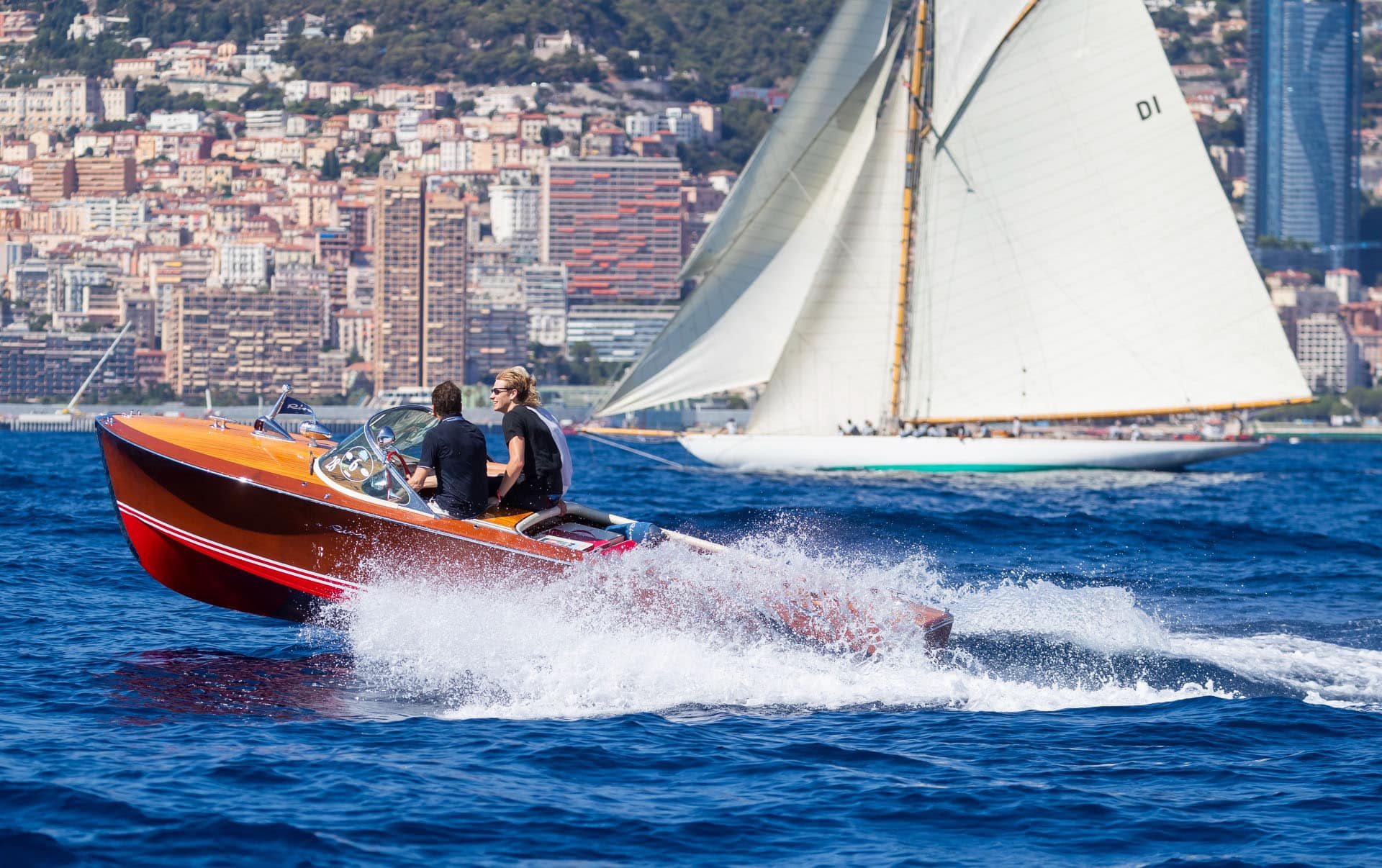 15e Monaco Classic Week – La Belle Classe
Friday 27th August 2021. If there is one landmark event in the classic yachting world it is Monaco Classic Week – La Belle Classe, a meeting where time slips by without a trace. This one-of-its-kind biennial yacht fest was launched 1994 and has established itself as one of the most important gatherings of traditional boats (sailing and motor). Every two years, Yacht Club de Monaco offers fans and owners a voyage back in time synonymous with a certain 'Art de Vivre la Mer' lifestyle, that everyone can share in the village that is open to the public (free entry).
Around 100 boats are expected to descend on the YCM Marina, bringing all the pageantry and colour of a bygone era to the quays. As crews rival each other for elegance aboard, the familiar sound of shrouds clacking against masts mingles with the roar of engines on period motorboats. Monaco is preparing for a week where time stands still, recalling those first powerboat meetings held in the Principality from 1904.
As the 100th anniversary of the death of Prince Albert I approaches, the YCM in partnership with the Albert Ier 2022 Committee is organising an exhibition of lithographs, posters, photographs, restored old postcards, and trophies and medals relating to those meetings in the early 20th century.
Due to the global health situation the format has been modified, with organisers opting for a more intimate edition that encourages meetings between owners who share the Club's passion for living maritime heritage. "Unfortunately some boats are not able to make the trip," explains YCM General Secretary, "and we even had to refuse some applications for an invitation to comply with health guidelines. We have therefore decided to opt for a slightly smaller range of boats, with the focus more on classic sailing boats (built before 1950) and to give them even more personalised support."
Honouring living maritime heritage
A desire to pass on this passion by bringing maritime heritage to life are the bywords of this biennial.
Around 30 sailing yachts including the spectacular Big Boats, Vintage Gaffs, Vintage and Classic Marconi boats will be blending in with the sleek lines of classy Schooners, including Orion of the Seas (1910) making her return to this event having participated at the first edition in 1994, and Puritan (1930), winner of the 2019 Monaco Classic Week Trophy. Also present will be Manitou (1937), chosen by J.F. Kennedy to be the Presidential Yacht. Owners of boats that will line up on the start of this meeting had to submit an application beforehand to a committee of experts, the conditions being that theirs was a period yacht in its original condition with a wooden mast.
Fife designs on the billing of this 15th edition
Tuiga (1909), the Yacht Club de Monaco's flagship is looking forward to seeing The Lady Anne (1912) and Mariska (1908) again, all three are in the gaff cutter 15M IR class. They will be sailing among other Fife designs like Moonbeam III (1903), Silhouette (1910), Rainbow III (1927), Hallowe'en (1926) and Viola (1908), winner of the 2017 Monaco Classic Week Trophy, showcasing all the genius of this Scottish naval architect. Heir to a prestigious line of yacht designers and builders at the Fairlie yard in Scotland, he very quickly established himself with his signature (a sword emerging from a dragon's mouth etched on the bow) as one of the most important designers in the yachting world.
Small boat big reputation
A fleet of entries in the 12' Dinghy class designed by Georges Cockshott will again be billeted in the Principality. Single-handers, the dinghy became an international class in 1914 and Olympic class in 1920. Completing the set will be around 30 motorboats including Rivas, the famous mahogany boats so prized by the jet set in the fifties, alongside Chris Craft boats, as owners put their race machines through their paces with regularity and elegance contests that only a jury of experts are in a position to judge.
Period motor-yachts in the spotlight
A number of period motor-yachts are also set to grace the scene including Lady Hertha (1935) who will be showing off her lines alongside other famous yachts like SS Delphine, celebrating her 100th anniversary this year. Built in 1921 for Horace Dodge, the 79m steam-yacht is one of the last still sailing, her three Babcock and Wilcox boilers powering two 1500hp quadruple expansion engines. Many are the anecdotes surrounding this legend – Roosevelt and Churchill reportedly prepared the Yalta Agreement with Stalin in 1945 on board. She will be moored on Quai l'Hirondelle right near the Yacht Club de Monaco.
Historic monuments in their own right, period motor-yachts embody a navigation tradition steeped in elegance. Among participants is the 42m Istros (1954) enjoying a new lease of life after her reconstruction. Her name, meaning "inspiration", is revealing as she impressed all those who went on board with her advanced radar system and telephone technologies that were not common at the time. She is in good company with yachts like Moonyeen (1936), Blue Bird (1938) and MY Seaway (1928), winner of the 1994 Monaco Classic Week Trophy, joining this superb fleet that will take part in the elegance parade on Saturday 11th September.
Respect for the original spirit 
A special feature of Monaco Classic Week is the coveted La Belle Classe Restoration Prize. For the 15th edition, a Jury comprising yachting history experts and chaired by the legendary Sir Robin Knox-Johnston will be inspecting all boats to assess the quality of their restoration. Marks are based on respect for original plans, the materials used in building the boats and the know-how of those who restored them.
Back to their roots
Monaco Classic Week is also a good opportunity to present recently released books which this year sees a history of Puritan (1930) unveiled by her owner, Tomas de Vargas Machuca. Meanwhile, Daniel Charles, PhD in history, naval architect and award-winning author, will be signing his latest book L'entreprenant Monsieur Megevet, retracing the career of this manufacturer and visionary from Geneva who dedicated his time to developing the automobile, as well as boating and aviation in the 20th century.
A week dedicated to 'Art de Vivre la Mer'
Highlights include races for the sailing yachts, the 100-year celebrations for SS Delphine, not to forget the famous chefs and elegance competitions and Jury inspections to find the winner of this edition's La Belle Classe Restoration Prize. Colour, spectacle and all the elegance of a bygone era await as Monaco welcomes these witnesses of the past, keen to merge their history to the present.